Team spirit is the spark that gets our fire going. The audio-visual & media production industry is agile and demanding, requiring a high degree of flexibility. As a strong team, we're able to switch gears fast and take on any assignment, small or large. We enjoy the challenges that come with the sector and take teamwork to the next level for bigger and better results.
The DB video group - Our story
Our story begins in 1998 when Dimitri Beyaert kicks off the business as a part-time self-employed man, combining his work for prime Flemish tv-channel VTM with small assignments such as wedding and company reporting. He lands his first big break in 1999 with TMF, after which he's given the opportunity to capture 'The DJs' and 'The DJs @ home'.
In 2006, DB Video moves headquarters from Boom to a large location in Aartselaar that can cater for more equipment and a greater staff. Another milestone is reached in 2017, when DB video joins EMG (Euro Media Group), a leading European provider of audio-visual services. This grants the company additional means and resources to guarantee the best possible client service. EMG is active in various countries like France, BENELUX, Germany, the UK, Switzerland, Italy, the US and Australia.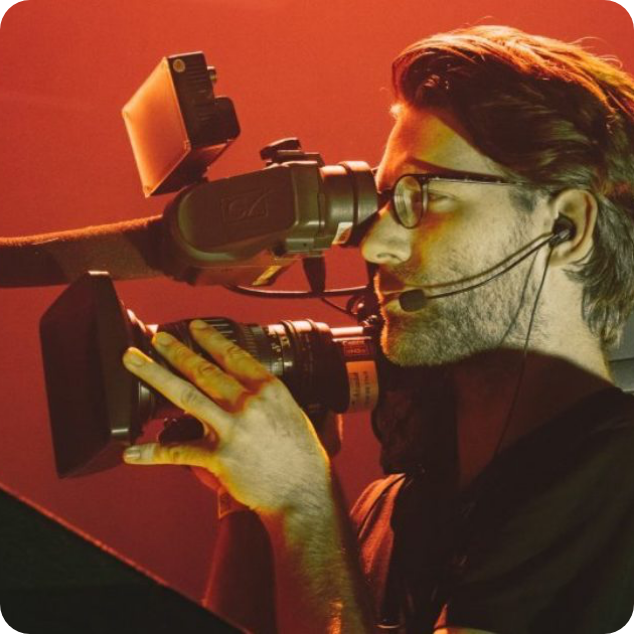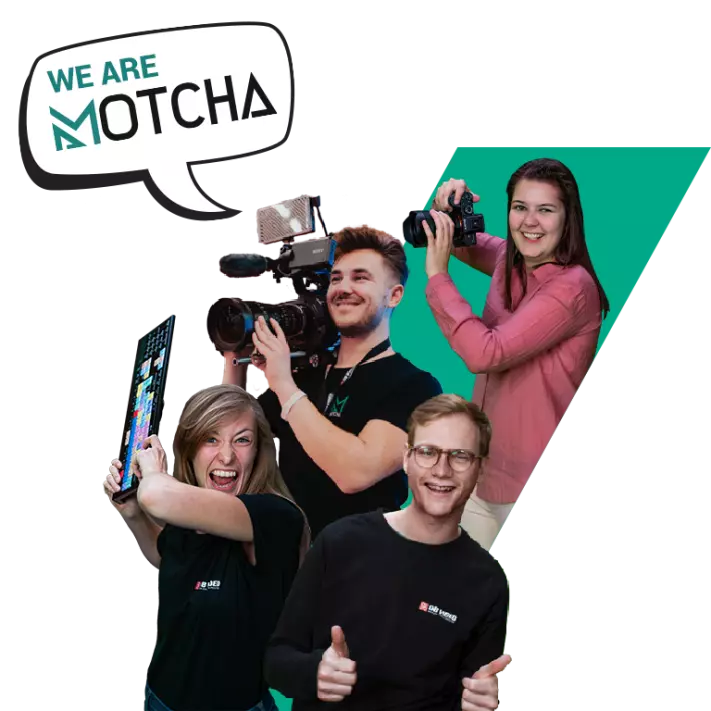 Staying on top of the trends
In response to the increasing popularity of social media, MOTCHA is created in 2019. This creative department focuses primarily on marketing and content creation. Live streaming is another trend with an undeniable impact on the audio-visual landscape. To stay ahead of this particular curve, another department by the name of Webble-Up is launched in 2020 with its own streaming platform and a separate section for developing streaming software.
While our core business initially concentrated on event registration and television production, we've begun to shift our focus to executing each and every concept from start to finish. As a company that boasts 3 departments specialised in different areas of expertise, we're the ideal full-service partner to offer our clients the support they need for everything to do with audio-visual techniques and media production.

What we stand for
Video is EMOTION & TEAMWORK. Win your viewers' hearts and you'll stay top of mind. This is the experience we want to offer our clients, together.
"Video is EMOTION & TEAMWORK. Win your viewers' hearts and you'll stay top of mind"
Our values
At DB video, we're creative, we're passionate about what we do and we possess extensive expertise. We built our company operations on several pillars, including stress resilience, effective workload management, continuous innovation and proactive problem-solving. Additionally, we adhere a lot of importance to optimising information security. Our approach is customer-centric. The client is at the heart of all we do and we want all parties to feel engaged. We aim for a collaborative partnership that's efficient and transparent.
The dream team
The team makes the dream work! We set the benchmark high to deliver an excellent service that focuses on flexibility, quality and technological innovation. Our team consists of a diverse group of passionate, competent professionals who all work together to provide our clients with the best solution for their specific needs. To this end, we inspire our team to be involved in the entire process, to be proactive and take initiative and to work closely together towards a common goal.
We're big on team spirit, which entails treating each other with respect. All staff members are responsible for creating a pleasant atmosphere that's free of any tension and therefore the ideal working environment for improved team work and productivity. While every employee is responsible for the tasks they've been assigned, they're also encouraged to be a good co-worker and help out wherever possible.